Node Three came about from the need to site some RF equipment within the house to give the best coverage.  It's nothing fancy, just a two tiered shelf in the loft for the time being, maybe at some point I will make it into a proper cabinet of some sort!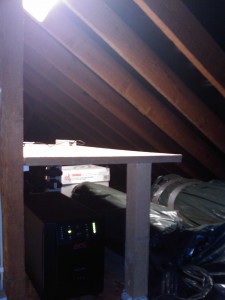 Fortunately the work carried out previously in Node One allows easy cabling up into the loft, so four CAT5 cables were run and terminated locally into double RJ45 sockets.  Yet another UPS sits on the lower shelf.  It gets pretty warm up in the loft during the summer, but an SNMP add-in card in the UPS allows the internal temperature to be monitored and I regularly check the batteries to make sure that they're not adversely effected by the heat.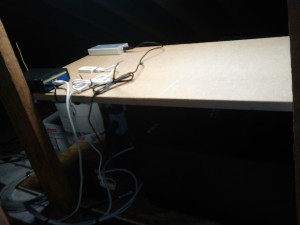 The top shelf has a further RFXCom Lan enclosure with 434MHz Transmitter and Receiver and an 868MHz Receiver and two Linksys NSLU2s can just about be seen behind the UPS.  These have been re-purposed as embedded Linux machines and one is connected to a "HouseHeat" controller that integrates my Central Heating system onto the xAP network and the other has a TrickleStar Z-Wave controller attached.  This is currently being used to test the progress of the excellent OpenZ-Wave library and will eventually integrate Z-Wave equipment with the xPL network.
I use HouseHeat equipment throughout the house, with a thermostat and actuator in each room controlling radiators.  The HouseHeat controller connected to the NSLU2 gives a useful web interface to allow control of set-points and timers and a xAP connector brings sensor data onto the xAP network as well as allowing control from other xAP software.
My journey with Z-Wave has only just started and I am patiently waiting for the work on OpenZ-Wave to come to fruition and hope for a proliferation of HA applications to be forthcoming before I invest in more equipment.  I extensively use HomeEasy products currently for power sockets and some lighting, but I've never been a fan of the lighting side due to the one way nature of the products.  Hopefully Z-Wave with it's two way communication will prove to be the product that I've been waiting for in that respect!
Thanks for reading,
Martyn Wendon