I've always been a big music / movie lover, so it's natural that HA / IT / gadgets would end up playing a part in that area too!  Throughout the house there are a mixture of Rio Receivers and Slim Devices SqueezeBoxes (I think I have nearly all of their models covered apart from the new Touch!) providing music on demand streamed over the network.  As some will know, the SqueezeBoxes can also be xAP / xPL enabled to offer HA control, IR Gateway as well as being able to display messages on their VFDs.  I'm also a big fan of XBMC and I have this running on original XBOXs wherever there is a TV (all LCD / Plasmas now, no power hungry CRTs here anymore).  XBMC handles just about any media I've thrown at it aside from HD and is a perfect companion for GB-PVR that runs in a VM recording TV shows off of HDHomeRun Network Tuners.  There's also recently been some work done on a native client for GB-PVR that runs on XBMC and allows full control, which has massive WAF!
As in most houses though, there's always a central location favoured for watching TV or Movies and ours is the Living Room.  In January 2009 I decided to replace the mammoth 36″ Sony CRT that took up half the room and a 20 year old Pioneer separates Stereo system that was taller than my daughter, with something a bit less power hungry and modern.  At the time a 50″ Plasma could be had for around £700, so the decision was made!
Once the Plasma was on the wall and the CRT and ancient stereo freecycled, I then had to find a home for all of the equipment that used to sit in the cabinet under the TV and so Node Two was born: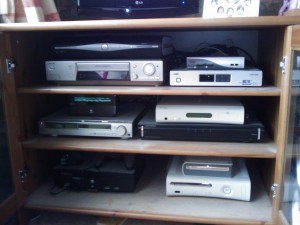 Oh, one thing to note, with young children in the house, mounting a 50″ Plasma on the wall will get you constant complaints that their necks hurt when they're watching TV 🙂  I lasted about three days before I ended up buying a smaller 24″ LCD to sit on top of the cupboard as well, so we now use the LCD for general viewing and the Plasma for movies etc.  Still, I guess it will save the Plasma from screen burn of the CBeebies logo!
The cupboard that I settled on was an Ikea jobbie that was surprisingly well made and more importantly wide and deep enough to hold plenty of equipment!  In the cupboard is a Sky HD box, VCR (for as yet to be converted videos), NTL Cable box, Dreambox DVB-T box, Slim Devices SqueezeBox, DVD / surround system, XBOX and XBOX360.  A couple of switchers take care of switching sources between the Plasma and LCD and a 1Wire temperature sensor allows monitoring to make sure things don't get too toasty.  As of yet I've not had to provide any additional cooling other than some holes cut in the rear, but am planning on upgrading to Blu-Ray at some point, most likely in the form of a PS3, so will likely need to add cooling at that point.
All of the kit here is selectively powered on / off using HomeEasy power sockets and is all controlled via a Logitech Harmony 895 remote.  It's even been possible to use IR <-> SqueezeBox <-> xAP <-> xAP Floorplan <-> xPL <-> xPLRFX <-> RFXCom <-> HomeEasy to automate the power switching of the equipment where needed!
As with everything, there's changes in the pipe-line for here too, the Blu-Ray player as previously mentioned, plus I have my eye on one of the new Virgin V+ boxes too and a 5.1 sound system is soooooo 1999, I really must upgrade to 7.1 🙂
Thanks for reading,
Martyn Wendon